You may not be aware of it but land surveys and mapping are an integral part of the town or city you live in. Land surveying has been used for centuries in a host of important construction, engineering, and mapping projects.
So, we spoke to City Surveys & Monitoring Ltd about what makes a good land surveyor and how you can go about finding the right one for your requirements.
The job of a land surveyor is incredibly diverse, and in many cases no two days will be the same. Typical projects include analysing land for agricultural use, or for improving infrastructure, or mapping out residential, industrial and commercial developments and even examining archaeological sites.
Land surveying is a challenging job and requires very particular skills and knowledge. Though all land surveyors will have training, qualifications and the appropriate kit, as with all professionals, there are some distinctive traits that only the very best surveyors will have. Those supplementary skills are often the ones to look out for when deciding who to work with.
To prevent problems arising once development work, excavations or other processes begin, it is crucial that the land surveyor has carried out their work to a high standard. There is no room for error or miscommunication.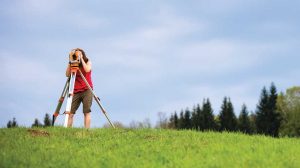 So, what sort of characteristics should you look for when choosing a land surveyor?
Well, aside from the technical things that define what makes a good land surveyor, there are many other qualities that define those who are the best in the business. This short guide includes some key skills and characteristics which are essential to the role, as well as a few subtle (but invaluable) traits that could be the deciding factor between two, equally qualified and experienced land surveyors.
Communication
This is one of the most important but underrated skills of the land surveyor. It is often referred to as a 'soft skill', but for a surveyor, communication is key. They must be confident, clear and accurate. Whether speaking to clients or drafting findings, high-level communication skills are essential.
Effective communication makes projects run smoother and clients feel assured. You can spot a surveyor with good communication skills, as they will ensure a client understands all the nuances of a project, taking time to explain any technicalities clearly and without jargon.
Communication skills also transfer well into the act of surveying itself. The systematic thought processing skills required to communicate with clarity and precision are also useful for the common sense, ordered approach needed for the analytical side of the job.
Qualifications
Naturally, the exact qualifications required will vary depending on the nature of the project but a time-served, qualified surveyor is more likely to have encountered similar projects in the course of their working life.
However, not all surveyors will have chosen to pursue chartered status and this is not necessarily an indicator that the surveyor is any less skilled. Look for a surveyor with a good range of professional qualifications, a clear commitment to ongoing professional development and competency standards.
The Right Equipment
Of course it's a given that having the right tools for the job is important, but for a land surveyor it is imperative. The saying goes 'a bad workman blames his tools' and a low-grade surveyor will usually be accompanied by poor-quality tools.
Failure to maintain tools to the highest standards can mean disaster for your project – in some cases, it could put a stop to work completely, in all cases it will be an expensive delay.
Any decent surveyor will use independently calibrated and tested equipment. For assurance, ask to see the certification from the manufacturer or an independent expert; they should be more than happy to share this with you.
Quality Control
It can be difficult to predict whether a particular firm or independent surveyor will operate to the highest of standards, however, there are a few indicators that will give you a clue.
Like all good professionals, reputable land surveyors approach their work methodically. The result is a project delivered on time, with accurate results and supporting documentation. In other words, you will get what you pay for you with a good surveyor.
Presentation is a good indicator of a quality surveying firm or surveyor. A well-developed brand and a high-quality, easy-to-navigate website are useful indicators. Smart, friendly staff – both in the office and on site – go a long way to show a firm cares about the way it is perceived by clients.
Draft a list of questions when considering several surveyors/firms:
Does it have a digital presence (website/social media)?
Can it provide a portfolio of similar past projects?
Are staff content and satisfied in their work?
Can it provide client testimonials?
The answers to these questions, plus your initial impressions of the company, will give you a good idea of whether they are right for your project.
Peace of Mind
Above all, your peace of mind should be paramount any surveyor you employ.
Guarantees are a sure sign that the surveyor is confident in the quality of their work. This ties into the surveyor's pride in their work, their company and reputation. Be sure to check how highly-regarded the company is by looking for reviews from past customers or requesting a reference or testimonial.
Your initial contact with the surveyor should help you to feel confident too. This brings us back to effective communication. Ask as many questions as you can during the early stages and question your own understanding of their responses. How will your surveyor keep you informed during the work? Do you feel you understand every stage in the process? What assurances will your surveyor give for the work they do? Do they offer any guarantees or specific quality commitments?
If your chosen surveyor has ticked all of the above boxes, you should feel confident that your project will be off to a good start and that you've done all the necessary due diligence.