There are many reasons why companies prefer providing corporate uniforms to their employees. The most important reason among them is branding, because your employees will be giving more and more exposure to your brand, wherever they go.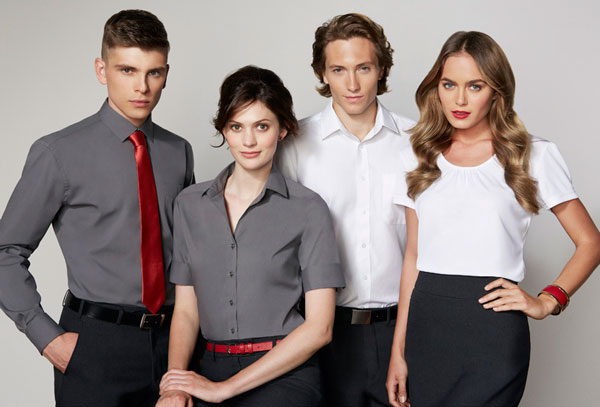 How else do the Companies benefits with Corporate Uniforms?
As mentioned above, your staff members will literally work as the brand ambassadors for your company. People will get to know a lot about the quality standards maintained by your company, when they see your employees attired in exclusive corporate outfits.
Branding and marketing is all about standing out of the crowd. When you organize events and trade shows related to marketing of your products or services, people will immediately identify your staff members even in big crowds. In a way, customized corporate clothing will help your company stand out among the competition, and help in attracting more customers.
If your employees are aware about what they should be wearing to their offices every day, they will not have to spend a lot of time in choosing their office wear. That way they will reach the offices on time, thereby improving the productivity of your business.
How will your Employees benefit with Corporate Attires?
These uniforms bring about the sense of unity among the employees. Although you might not have given it the deep thought, you'll surely have seen how uniforms help in uniting students and sports teams. The unity and mutual respect among your employees will go a long way in helping you achieve your business goals.
Uniforms also bring in a sense of responsibility, which will clearly reflect on their professionalism and behaviors.  When your employees wear exclusive corporate wear, they will feel a better sense of responsibility, and they will be more conscious about their actions.
The employees whom you hire for your company come from diverse backgrounds and financial standings.  Now by everybody wearing same kind of attires, you can bring about equality in your workplace. Your employees from poor backgrounds will not have to stress too much about spending money on clothing to keep up with their colleagues.
How can you benefit your Customers by Investing on Corporate Uniforms?
When your employees are attired with neat company uniforms, your customers will know whom to approach for any kind of assistance. This is especially useful during the trade shows and events. It will also save them the embarrassment of knocking on the wrong shoulders in crowded events.
Latest Designs:
If you think that the corporate uniforms look boring, and will make the life monotonous in your workplace, then you are in for a surprise.
You could check out the latest designs by visiting the websites that provide uniforms Melbourne. You will be simply amazed at the latest kinds of designs and styles that are available on corporate clothing lines these days, both for men and ladies. Your employees will be more than glad to wear the uniforms that are designed according to the latest fashion trends.
The idea of investing on corporate uniforms has paid reach returns for many companies, and the strategy has proved to be fruitful. It helps in improving the overall perception about your company, which is why it makes a sound business investment choice.