It is quite rare for someone to stay in the same occupation throughout their entire working life nowadays. In most cases a person will, at some point during their working life, change to a completely different career entirely and, of course, this will involve retraining in the newly chosen career.
Recently, one of the most popular industries for people to retrain in is construction. This industry covers a number of different skills and professions and although the house building market may fluctuate in terms of activity and sometimes go through periods when there are fewer homes being built, there is not normally a shortage of work for skilled plasterers, bricklayers or tilers.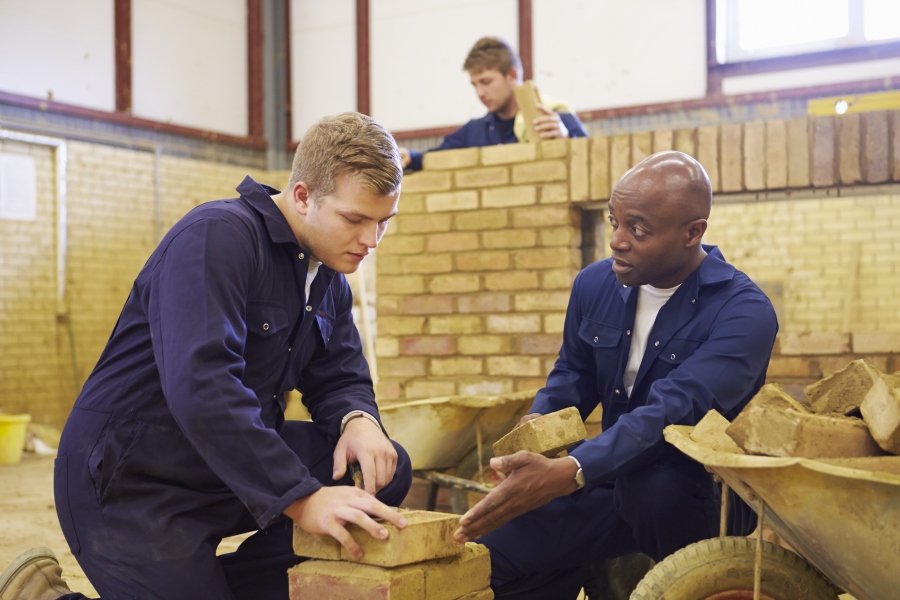 The increasing demand for training in the various construction trades is probably why a number of specialist training centres such as Chameleon School of Construction have become popular over the past few years. Construction training schools such as this offer courses and qualifications in tiling, plastering and bricklaying, as well as other courses in some other associated trades like vehicle mechanics.
Of course, in addition to those who are looking to retrain, there are also school-leavers who may not wish to follow a purely academic path into further education and, instead, want to gain real practical skills that can see them gain a work placement more quickly. Specialist construction training centres cater for these younger people and provide a valuable route into work for them.
A third group of people who are able to make use of the availability of construction training are existing tradespeople who want to broaden their existing set of skills. For example, a plumber might wish to add tiling to the services that he offers to his customers so that he is able to gain larger jobs such as refitting bathrooms or kitchens, or a decorator might want to take one of the plastering courses  available so that they can then gain a greater amount of work and take on larger refurbishment jobs.
One final group who are likely to consider going on a training course at a specialise construction school or academy are those who just want to improve their skills or brush up on the latest techniques and requirements in their particular chosen field. Most of the fields within construction, such as plastering and bricklaying, include a wide range of different skills and techniques that need to be mastered. A trainee can progress through multiple levels of expertise in these areas, whether this is at NVQ or diploma level. Even an experienced tradesperson may benefit from an occasional refresher course too, particularly as standards and building regulations get updated from time to time and it is advisable to stay abreast of these changes and any new working practices that they make necessary.
As you can see then, there are a number of reasons why specialist training centres that specialise in teaching construction skills have become so popular and with an expanding population who will all need somewhere to live it is fairly certain that the demand for those who have the necessary skills to work in the building and construction sector is only going to increase further in the future.