Child care is defined as the caring for and supervision of a child or children, usually from age six weeks to age thirteen. Child care is the action or skill of looking after children by a day-care center, babysitter, or other providers. Child care is a wide-ranging topic covering a wide spectrum of contexts, activities, social and cultural conventions, and establishments. The majority of child care institutions that are available require that child care providers have extensive training in first aid and are CPR certified. In addition, background checks, drug testing not at all centers, and reference verification are normally a requirement. Roughly six out of every ten children, or almost 12 million children, age five and younger, are being jointly cared for by parents and early childhood educators, relatives, or other child-care providers. Early child care is a very important and often overlooked component of child development. Child care providers are our children's first teachers, and therefore play an integral role in our systems of early childhood education. Quality care from a young age can have a huge impact on the future successes of children.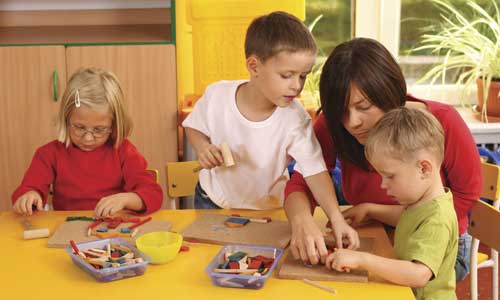 What is its Functions Then?
The primary function of a daycare center is to provide a safe and secure environment with quality caregivers, so that parents have the peace of mind of knowing their children are safe while they work. Centers for child care in Singapore has regulations in place that require compliance with established safety practices that you will need to consider before choosing the best one for you.
From infants through preschool-aged kids, most child care in Singapore have planned educational activities that help build a foundation for later school success. Children learn through play as well as precise learning courses. Most children who attend a daycare through the preschool level are able to distinguish and write letters and sight words and can do simple addition and subtraction. This makes the move to kindergarten much easier, and gives them a head start on learning skills.
Most if not all child care in Singaporeprovides healthy, well-rounded meals and snacks. Most centers have regulations governing the types of foods and drinks that may be provided while children are at their care. They are also responsible for ensuring children receive adequate opportunities for physical fitness.
They also assist in improving a child's social skills. This is done through play with peers and interactions with adult staff members. In this manner children learn valuable social skills which includes sharing, cooperating and language skills. Children who do not have access to peer groups tend to have a harder time adjusting to elementary school than those that attend daycare or preschool.
The main issue that arises when enrolling a child in preschool daycare is whether or not they are physically and mentally ready for the lessons offered by the child centers. Enrolling a child for any sort of teaching before he is able to understand and enjoy it, is not sensible. In the long run, it will prove counterproductive to the parent's purpose to lay the foundation for future education, as it will eventually make the child dislike child care altogether.
The child should be happy and comfortable in their child care environment. It may take them a week or two or even three, to adjust to their new surroundings and guardians but, once they settle down, they generally don't want to leave it.