You might think that being rich and famous would make the pursuit of higher education somewhat redundant. That is, however, only if you view a degree as a piece of paper that proves a level of qualification for the sake of furthering one's career. In the case of these celebrities, a degree means a lot more than that. A love for learning and thirst for educational achievement had seen these stars return to school to finish what they started, even when it wasn't vital for them to have done so.
Oprah Winfrey
The so-called Queen of Daytime Television was very close to finishing her degree in speech communications and performing arts at Tennessee State University when she made the difficult decision of dropping out to fully focus on her TV career. Years later, after the talk show host had become a mega superstar and international icon – the university asked her to give a speech at its graduation ceremony. Winfrey thought it would be inappropriate to do so until having a degree of her own, so she re-enrolled at Tennessee State University to finish the remaining pieces of coursework and finally received her degree shortly thereafter.
Michael J Fox
The Canadian actor had already made a name for himself before the immensely successful Back to the Future movies thanks to his role in the sitcom 'Family Ties'. Unfortunately, his ascent into stardom at such an early age interfered with his school work. He dropped out of high school entirely, but decided to finish his secondary education several years later at a point where he had more free time, motivation and discipline.
Vanessa Selbst
As one of the most successful poker players of all time, Selbst has earned well over $10 million in live tournament as well as subsequent amounts playing Texas Hold'Em on different poker sites. Being a millionaire didn't stop Selbst from wanting a law degree, however – even when she already had a political science degree under her belt. Returning to Yale after a few years of playing poker and travelling, she studied law until graduating in 2012. Unsurprisingly, her critical thinking and analytical disposition is not limited to the card table – the poker pro is very vocal about political and legal matters in the US.
Steven Spielberg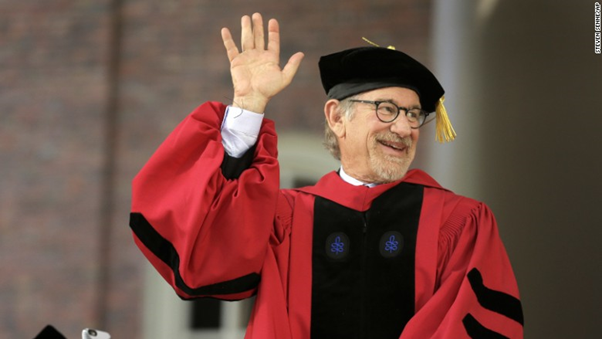 The renowned director was enrolled at California State University but dropped out when he managed to get an unpaid internship in the editing department of Universal Studios. Thirty-four years later, after the likes of E.T., Jaws and Jurassic Park, Spielberg decided to finish what he started. He went back to California State University and in 2001 finally received his degree in film and electronic studies. The degree program's coursework required students to create and submit a short, polished film for review. Apparently, this was not deemed necessary for Spielberg, as the university decided "Schindler's List would do".
Eva Longoria
Eva Longoria had already graduated with a degree in science when she decided to study for a second degree in 2011. This time, the Desperate Housewives actress studied a human and social science course. On the day of her graduation, at the age of 38, she tweeted "you're never too old or too busy to continue your education."
Emma Watson
The actress famous for role in the Harry Potter films has in recent years been keen to stress the importance of education in combating gender inequality around the world. As a UN Women's Goodwill Ambassador, Emma Watson has demonstrated a strong educational background with her articulate, thought-provoking speeches and calls to action. It took a deal of self-motivation and effort for Watson to attain her own degree in higher education, however. Though achieving impressive grades in high school, her commitment to the demanding schedule of the Harry Potter series meant she had to leave university early in 2010, having only completed her first year. She returned over a year later and stuck it through that time, eventually graduating with a degree in English literature.
James Franco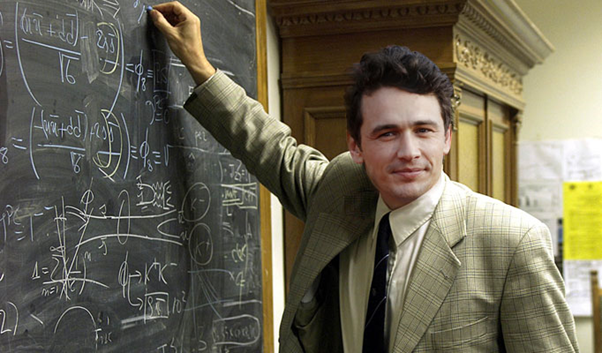 The actor and filmmaker is a self-proclaimed lover of learning and teaching, with several degrees under his belt. Initially, Franco studied English at the University of California in Los Angeles, but dropped out because of career commitments. Ten years later, he returned to get three times the normal amount of credits in one quarter. In just two years he graduated with his English degree; the thesis for which was a novel he'd written. Since then, Franco has continued studying and has now even opened his own theatre and acting school in New York.
Shaquille O'Neal
It's not unusual for NBA stars to begin their careers while still at school. In the case of Shaquille O'Neal, the basketball player had to give up his studies at Louisiana State University to pursue his sports career. He had, however, promised his mother that he would one day graduate. In 2000, he fulfilled his promise by graduating with a degree in general studies. That's not at all – O'Neal then continued studying and achieved both a master's and doctorate.
Mitt Romney
In the case of the 2012 presidential candidate and former Massachusetts governor, it was a religious calling which rendered him unable to finish his first try at higher education. Romney dropped out of Stanford after just one year to go on a two-year Mormon missionary in France. After returning, Romney decided to finish his education, but this time at Brigham Young University – a Mormon educational establishment.
Mary Kate & Ashley Olsen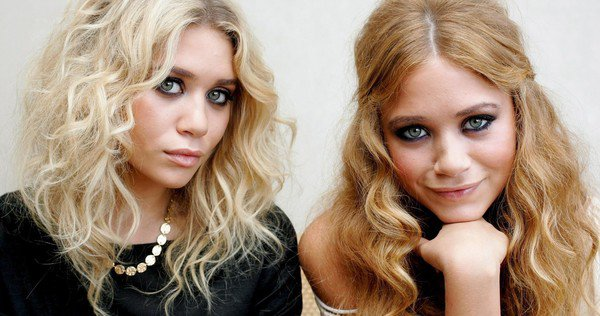 Despite a $150 million net worth, the sister superstar duo enrolled to New York University together in 2003. Widely reported at the time was the twin's impact on campus style, as their boho fashion sense influenced other students.