The days are growing shorter and the temperatures are starting to dip lower and lower with each passing evening. The hot days of summer may be over, but that does not mean that your outdoor living season needs to come to an abrupt end. Homeowners can extend their outdoor living season by placing one or more heaters on the patio or throughout their outdoor dining area.
Outdoor heaters come in a variety of sizes and designs, and can be fuelled in a variety of ways. To help you choose the right heater for your home and lifestyle, we have put together the essential information you need to consider before purchasing your heater.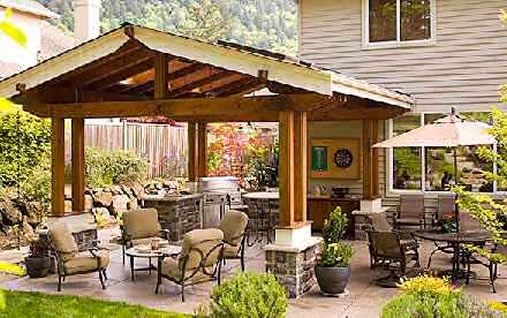 The First Consideration: The Fuel
When it comes to patio heaters, most can be fuelled in one of three ways:
Propane
Natural Gas
Electric/Infrared
Propane heaters are the most mobile of the lot and are easiest to use. They can be set up in a variety of locations and they provide heat in an instant. This type of heater does come with a few drawbacks, however:
Propane heaters carry no installation costs, but the fuel is expensive
Propane heaters cannot be placed in enclosed areas as this can result in the unhealthy accumulation of carbon monoxide
Propane heaters should be placed in areas where they will be protected from the wind (otherwise trying to light the heater will be difficult or potentially dangerous)
The next most common type of fuel used for outdoor heaters is natural gas. This type of heater boasts the lowest operating cost and is constantly fuelled by natural gas. With that said, this type of heater does need to be installed which can be costly. They will also need to be maintained from time to time to ensure that they continue to run safely and efficiently.
The last and most common type of heater these days is the electrical or infrared heater. This heater strikes a cost balance between propane and natural gas while producing no emissions. Depending on the type of electric heater you choose, it may need to be professionally installed. Apart from that initial cost, homeowners will be able to enjoy a number of important benefits including:
Superior efficiency
Economic use of fuel (which also reduces operating costs)
Effective heat production
Your Patio Heater Options
The fuel type will have somewhat of a bearing on the size of heater you use and your options in style and design. One of the most common types for homes and patios are wall and ceiling mount units. These vary in size and are able to deliver as little as 3,300 BTUs up to hundreds of thousands, depending on your needs. Most homeowners are happy with a smaller unit around 5,000 BTUs, but the size will depend on the space you hope to heat.
Table top and full-size freestanding units are also popular options for homeowners. Table top units are more accessible and provide around 12,000 BTUs. Full-size units deliver approximately 40,000 BTUs and often also come with a small surface area for people to place a drink or a small plate. Homeowners who choose a full-size unit are usually happy with a heater of 20,000 BTUs or less to heat their home patio area.