While most data is stored online, there is still a large amount that is not, which is why it's extremely important for businesses to use paper-shredding services. Bank statements, receipts, and pre-approved business credit card offers can all leave businesses susceptible to identify theft and can be easily used by data thieves. Businesses also need to protect the data of their employees and customers. Businesses of all sizes should be concerned about the confidential information they have stored in filing cabinets, laying around the office, or even sitting in the trash. People don't realize how common dumpster diving for sensitive data actually is. Businesses that throw away important documents instead of using shredding services and mobile shredders are leaving their business's and customer's private information vulnerable, as well as leaving themselves liable for not properly securing that information.
There were 31,400 cases of identity theft in Canada in 2013. Identity theft crime is growing every year and criminals are starting to realize the potential for targeting businesses. Businesses have larger bank accounts and higher credit limits, and information is usually publicly available and easy for thieves to obtain. All businesses produce confidential information, and cunning identity thieves are able to use any of this information to cause trouble. Employee names, addresses, social security numbers, and financial institution information (such as for direct deposit) are vulnerable in paper form, and much of this is collected on paper before it's scanned into a digital version. Customer information, such as bank information, credit card numbers, addresses, and signatures might also be stored in paper records.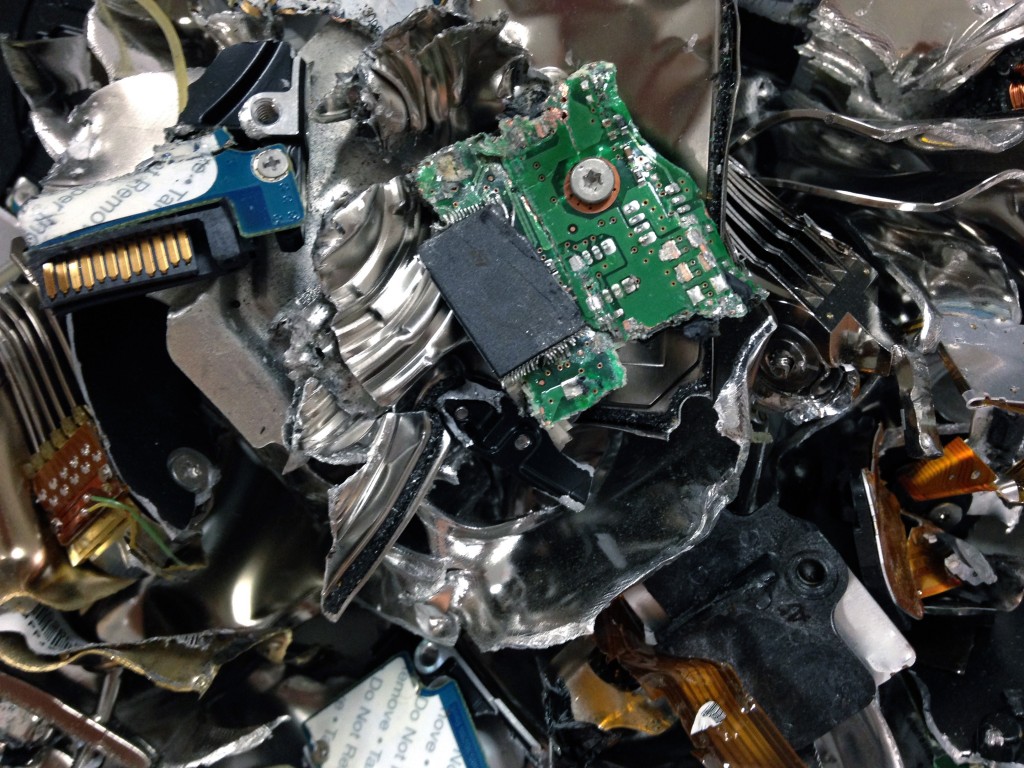 Thieves can open new lines of credit or even order replacement bank cards after claiming old cards as lost. Thieves can also make withdrawals from bank accounts and unauthorized purchases with credit cards. Some criminals are even using business BINs (the business equivalent of a social insurance number) in tax fraud schemes. Identity fraud can destroy a business. Credit can be damaged so severely that they might not be able to acquire new credit, which can in turn affect payrolls. Cleaning up an identity fraud case is not often a quick process and a small business can go under while trying to clear everything up.
There are several things you can do to protect your business and the sensitive client and employee information you store. One of the first steps you should take is to digitize important files and store them securely. Once this data is stored, physical copies of documents should be destroyed using professional shredding services. You should also never send sensitive information via email. Not only can email be intercepted, employees might also print emails and store the files insecurely at their desks. Businesses should also set up fraud alerts and check credit reports yearly. Business credit reports are one of the quickest ways to detect trouble. All major business credit bureaus offer business credit check services. When old technology is replaced, digital data should also be destroyed. Many shredding companies offer electronic data destruction as well.
Remember—identity theft doesn't just happen in metropolitan areas. Even businesses in medium-sized places like Burlington, Ontario are susceptible! Many Burlington-area businesses bring in mobile shredders several times per year and they often use their recycling options as well. If you are looking to find a paper shredding company in Burlington, for example, you should always ensure that the company you choose to work with uses shredding standards that meet the needs of your business. Create policies for your business to make sure you're not the victim of identity theft and fraud. Educate your employees about the dangers of letting sensitive data get into the wrong hands and teach your employees how to properly dispose of their files.