Medical emergencies can happen anywhere and anytime. Although these situations are unpleasant, serious medical conditions and injuries are part of our daily life. Air ambulance is used in extreme circumstances, when the health condition of the patients starts deteriorating. The kind of airplanes used for such conditions depend on the distance and the patient's condition.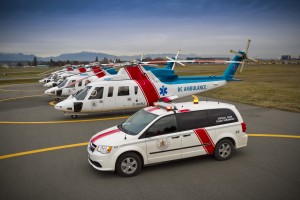 Jet Aircraft
Jet aircraft are generally used as medical flights for long distance. This is because these flights are designed to fly even in unfavorable weather, with the main goal of reaching the destination quickly and safely. They are one of the favorable means of medical air transport existing today.
Advantages
They can carry additional medical staff and equipment
They have space for one/two family members
The advanced pressurization and electrical systems offer best comfort to the patients
They are equipped with additional high-tech medical equipment required for long distance transfers
How to Select Air Medical Transport
The patient's condition is an important factor to consider while choosing the service. The operators of the medical transport services specialize in Critical Care and Advanced Life Support. Jet aircrafts as well as turboprops are the finest alternatives in such cases.
The next factor to think about is the cost and availability. The provider should have appropriate resources in order to make the medical transportation economical and comfortable.
Air Ambulance Companies offer various services
Bed-to-bed or door-to-door services for those patients, who need high level of medical care.
The dedicated flight coordinators and seasoned pilots ensure that the transfer is stress-free for family members and patients.
They also administer medications and correspond with the insurance companies, hospitals, and medical providers.
They handle all the aspects of medical transport from beginning to end including synchronization of ground transportation, and giving updates to everyone involved all through the transfer.
In case, the patient isn't critically ill and does not want to fly, then they can opt for long distance ground transportation, which is an affordable option as compared to air ambulance. Also, this is the best way to move patients from one place to the other, whenever it is not possible to transfer them through rail or air travel.
Emergencies While Traveling Abroad
Medical emergencies may occur even while traveling abroad and many people overlook this possibility. It is important to include medical coverage in the travel insurance. The service providers also take care of medical repatriation, arrange for tickets and synchronize with the immigration department.
Air medical transport services offer invaluable services in case of serious or critical medical emergencies. Even though such emergencies are rare, it is essential to have right info on such services. This could pay off in case of serious, life-threatening medical issues. By obtaining quotes and details from http://airevacinternational.com/bases-of-operation/, one can ensure a positive outcome for those who need medical attention.
The dedicated team coordinates with every detail of the patient transport. They have access to the most skilled personnel. Family members responsible for transferring the patient over long distance could rely on air ambulance for their needs.