The weather can be a bit here, there, and everywhere these days. In the UK especially, one day it might be 25 degrees and sunshine, the next it could be heavy showers and barely scraping 14. An unexpected heatwave can be great, if you've got time off work or you've planned a weekend away. Other times it can be a struggle, especially if you're cooped up in an office, and even worse – if said office doesn't have air conditioning. You stare out of your window from your desk, dreaming of jumping into an outdoor pool, or quite simply anything that doesn't involve being at work! There are however a few things you can do in order to keep calm and keep cool in scorching temperatures…
Buy a Desk Fan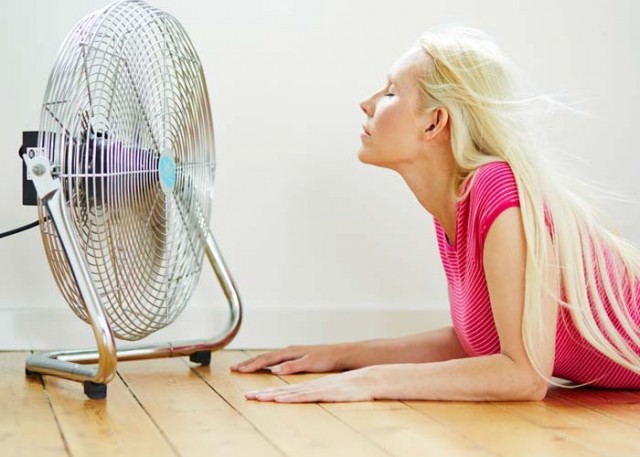 Don't underestimate just how handy these little desk fans can be! If your office doesn't have the privilege of any air conditioning (bad, bad times) then they can rescue you from a world of sweat and tears. For cooler air, place a bowl of ice in front of the fan and enjoy that ice cold breeze. A must have to survive a hot summer in the office. Just make sure you hit the shops before the heatwave, these things sell out like hot cakes.
Invest in a Watercooler
Or encourage your boss to buy an office watercooler on behalf of your overheated work force! Not only does it provide ice cold drinking water, it encourages staff to drink more water thus increasing concentration and general overall health too. It's for the good of the people! It also encourages you to stretch your legs and give your eyes a few minutes break from the screen. Plus who wants lukewarm tap water when it's hitting 30 outside?! Head to cooleraid for a reliable office watercooler.
Take Regular Breaks
If you spend the majority of your working day staring at the screen then it's important that you take breaks. If you're hot, and having to squint at a fluorescent screen it doesn't make for the most productive day. Short breaks throughout the day will help to boost your concentration and it's always good to get some fresh air to your lungs.
A Face Spray
A cooling facial spray such as Magicool can be just what you need for a midday refresher! Keep one handy in your desk drawer for when the heat gets too much and you want to dive head first into the nearest swimming pool. Your work colleagues might laugh at first, but you'll seen be the envy of the office with them lining up for a cooling spritz.
Breathable Fabrics
You might have to steer clear of the suits and ties for a few days, unless you want to boil and enjoying sporting a sweat patch or two. Instead, opt for breathable fabrics such as cotton, linen and silk. You'll be thankful for it by the end of the day, and on the commute home!
Do you have any top tips for keep cool, calm and relaxed in the office during hot temperatures?